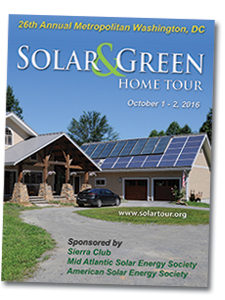 2016 Metro DC and Maryland
Tour Guides
The 32-page 2016 Solar and Green Home Tour Guide is your passport to the homes with descriptions, photos, directions and colorful maps to all the homes. It's also a convenient resource featuring local incentives and colorful ads from local installers.
TWO WAYS TO GET THE GUIDE!
Available at convenient locations in the DC area for $5.00.


Or DOWNLOAD the Tour Guide for FREE!
(5.4 MBs PDF, 36 pages)

Tour Guide Locations. Pick yours up today!
WASHINGTON DC

DC SUN
3166 Mt Pleasant Street, NW
Washington, DC

Riide
1933 9th Street, NW
Washington, DC

VIRGINIA

REI Tysons
8209 Watson Street
McLean, VA

MARYLAND

REI Rockville
1701 Rockville Pike, Suite A-7
Rockville, MD

Franklin General Store
5123 Baltimore Avenue
Hyattsville, MD

The Green Commuter
2353 Distribution Circle
Silver Spring, MD

Tour Guide Features
• Metro DC Homes
• Over 40 homes
• 2 tours in one
• How solar works
• Grants - MD, DC, VA
• colorful maps
• Featured home
• Solar installer
• Resources